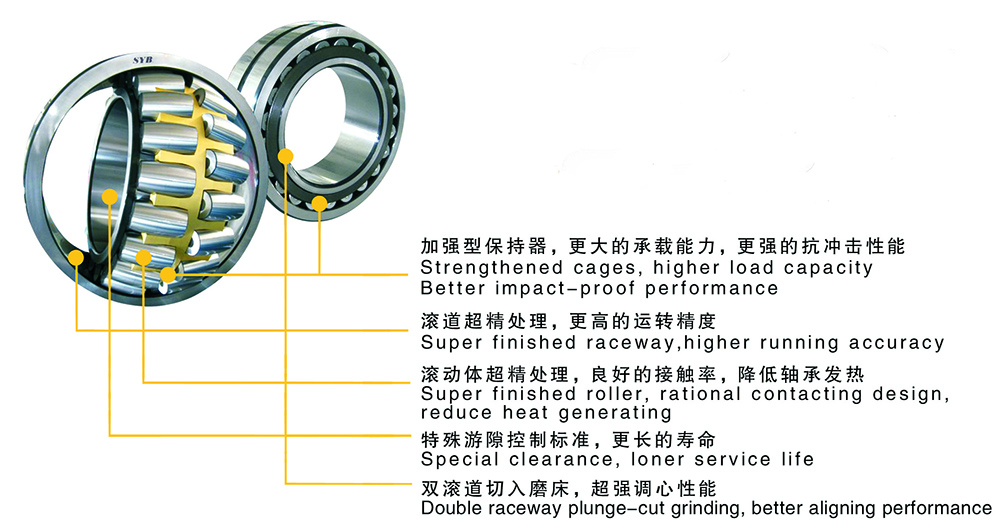 SYB puts into huge amounts of energy, only want GEMAN spherical roller bearing to win the trust from our customers. Through technological innovation SYB makes bearings which have high precision, high quality and long life, and this reduces the cost of equipment maintenance.
GEMAN BEARING TECHNOLOGICAL INNOVATIONS ARE DERIVED FROM
Design technology innovation: based on advanced analytic technique, realized optimized internal design, optimized raceway of rings and rollers.
Material and heat treatment innovation: based on intensive research and top material technology
Manufacture technology innovation: high precision processing by NC turning and grinding machines
Models:
222**/223**/230**/231**/232**/238**/239**/240**/241**
Structures:
CA  CC   MB   MA   E型type
Cage types:
turning machine brass cage  
deep drawn pressed steel
Dimension:
Inner bore diameter ≥ 80mm
Outer bore diameter ≤1500mm
Precision:
P0  P6  P5
Main application for spherical roller bearings:
Mining equipment  vibrating equipment  metallurgical equipment  cement equipment 
GEMAN Spherical roller bearing advantages are derived from:
Strengthened products optimized design bears heavier load and stronger impact force.
Special technology for raceway makes bearings have higher precision; SYB has research and development center that provides comprehensive simulation tests.